Dissemination of OES activities has been an ongoing process, through the presence of OES representatives in wellknown conferences related to ocean energy. Such events are the best way to spread awareness about the OES role and activities. The table below lists the main events in 2014, in which the OES was represented: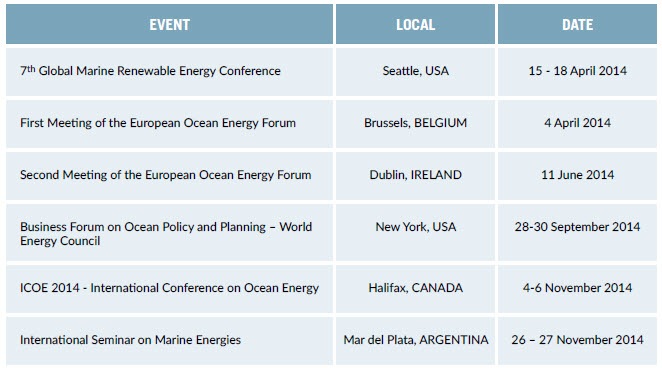 OCEAN ENERGY FORUM
The Ocean Energy Forum is a European initiative launched by the European Commission in April 2014 which brings together stakeholders to develop a shared understanding of the problems and to develop solutions. This Forum is a first stage of an action plan to accelerate the progress towards full industrialisation of ocean energy in Europe.
The Forum will run for two years and its ultimate aim is to deliver a Strategic Roadmap for the development of the sector. It is divided into three workstreams: Technology, Finance and Environment & Consenting. Each of these worstreams has its own Steering Group, with representatives from all relevant stakeholder groups. The OES is part of the Steering Group on Environment & Consenting and in 2014 was represented in the two meetings of this group.