RESEARCH & DEVELOPMENT
KEY R&D INSTITUTIONS AND RELEVANT R&D PROJECTS
The FlanSea project aims at designing and developing a wave energy converter for low to moderate wave energy in the Belgian part of the North Sea (and other moderate wave zones). The project partners are DEME blue energy, Cloostermans, Harbour of Ostend, Electrawinds, Spiromatic, Contec and 4 research groups from the University of Ghent. The project has been partly funded by IWT (Flemish Agency for Innovation by Science and Technology).
The FlanSea device of 4.4 m diameter, 5 m height and 25 tonnes weight was commissioned outside the Harbour of Ostend in July 2013. The sea test ended in December 2013. Results are being analysed within PhD scholarships and master thesis. The plans and intentions for FlanSea II are currently under development.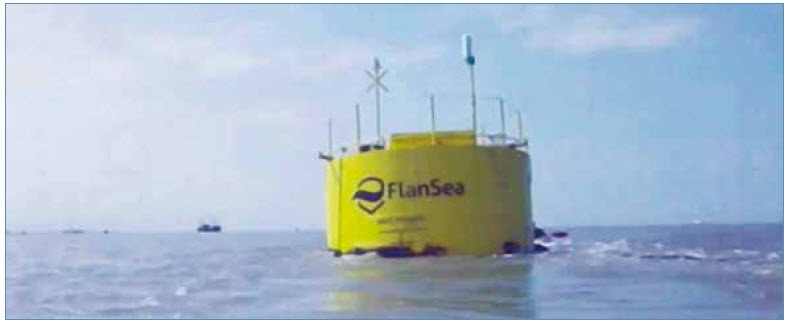 FlanSea device at sea (Flanders Electricity from the sea, www.flansea.eu)
Laminaria has developed a shallow water multidirectional surge device. The tank tests have recently ended. The developer is now filing for proper IWT funding to start sea trials.