Narasimalu Srikanth(1), Michael L. S. Abundo(1), Mary Ann Joy Quirapas(1), Pavel Tkalich(2)
(1) Energy Research Institute @ Nanyang Technological University (ERI@N). (2)Tropical Marine Science Institute (TMSI), National University of Singapore

TECHNOLOGY DEMONSTRATION

Hann-Ocean
With the support of SPRING Singapore's Technology Innovation Grant, Hann-Ocean Energy (HOE) has been developing a twin-chamber wave energy converter (WEC) "Drakoo" (Dragon King of Ocean) since 2008. Drakoo is capable of generating economic electricity from all scales of waves (0.2 m – 5.5 m) and is hence deployable in both shallow water and deep seas.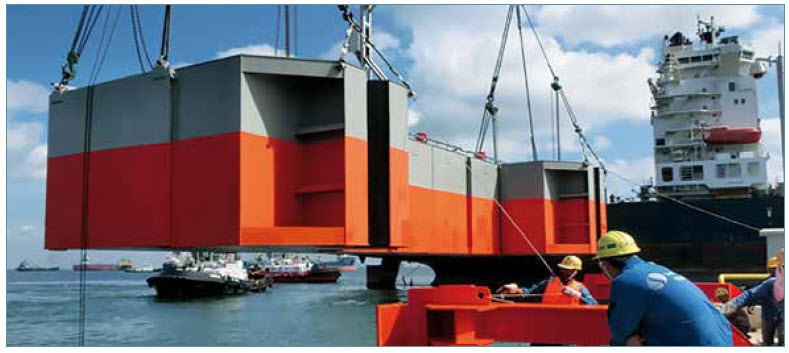 Testing of Drakoo in Singapore waters in November 2012 5.

The internationally patented Wave Energy Converter (WEC) transforms waves into a continuous water jet driving a hydro turbine generator onboard. Drakoo has been tested successfully in NTU lab tests and in deep wave flume test verified by Narec UK. The current Drakoo model has an overall conversion efficiency (waves to electricity) of up to 55%. 6
Hann-Ocean successfully obtained the first commercial order to supply four units of Drakoo-B0004 wave energy converters to Jurong Shipyard Pte. Ltd in June 2012. The WEC array (Drakoo-B0016) was installed at the new Jurong Mega yard at Tuas View Sea, Singapore in August 2013. The Drakoo-B0004 module is the world's first WEC that works under very low wave conditions (0.2m ~ 0.6m). This technology, which is fully developed in Singapore, will demonstrate the economic feasibility of generating electricity using small wave energy resources.
Atlantis
For more than a decade, Atlantis has been actively involved in the commercialisation of tidal power technology and the development of tidal power projects around the world. Atlantis established operations and set up its headquarters in Singapore in 2006, attracted by high quality R&D capabilities, as well as the robustness of the intellectual property protection regime. In 2011, EDB Investments (EDBI) became a stakeholder in Atlantis.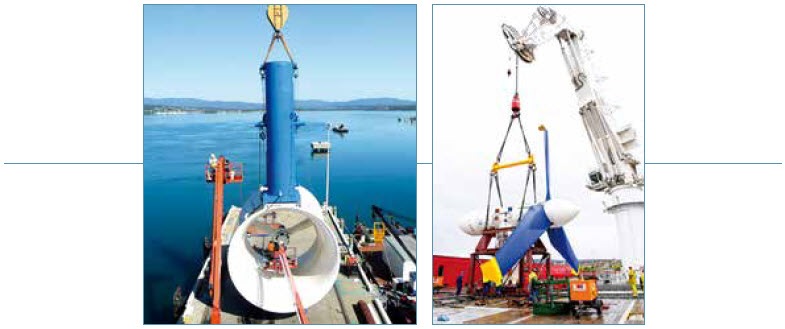 Atlantis' Solon Tidal Turbine Testing in Singapore (Left) and AR1000 – 1 MW unit (Right) 7
Over the past few years, Atlantis has been focussing on business strategy, project, and technology development. Today, Atlantis dominates the tidal market by being the owner of the MeyGen project – with an overall goal to deliver a fully operational renewable energy plant of almost 400 MW powered purely by tidal energy. Other projects of Atlantis include tidal power development in FORCE, Nova Scotia, Canada, where a developmental Feed-in-Tariff of C$530 (around S$590) per megawatt hour (MWh) was awarded, which provides revenue support for Atlantis to deploy and operate up to three state-of-the-art AR-1500 turbines at FORCE. Atlantis also has projects in India, China and other parts of the world.
--------------------------------
5 For more information, please see: http://www.hann-ocean.com/drakoo-b0016-array-launched-tuas-view-sea-singapore/
6 For more information, please see: http://www.hann-ocean.com/products/drakoo-wave-energy-converter/specifications/
7 For more information, please see: http://atlantisresourcesltd.com/about-atlantis/history.html